Being recognized is always appreciated—especially when coming from our customers.
We are pleased to announce that Bitdefender has been named a Customers' Choice in EMEA in the 2023 Gartner Peer Insights™ Voice of the Customer for Endpoint Protection Platforms (EPP). In addition, the company was named a Strong Performer for EPP overall evaluations and for North America and Midsize Enterprise & Public Sector, Governments, Education.
What are EPP solutions and why are they important?
According to the Gartner report¹, "Endpoint protection platforms (EPPs) provide the facility to deploy agents or sensors to secure managed endpoints, including desktop PCs, laptop PCs, servers and mobile devices. EPPs are designed to prevent a range of known and unknown malicious attacks. In addition, they provide the ability to investigate and remediate any incidents that evade protection controls."
As work moves from the office to home and everywhere in between, endpoints are a top target for today's threat actors. Distributed across a wide area outside the corporate network, endpoints can be extremely vulnerable if they fall outside the security team's control. A robust cybersecurity strategy must start at the endpoint and integrate enterprise-level risk assessment and remediation capabilities across distributed laptops, phones and tablets.
What Bitdefender solutions are the Gartner Peer Insights reviews based on?
Customer reviews are based on Bitdefender GravityZone Platform, a unified risk and security analysis platform that offers advanced EPP as well as Endpoint Detection and Response (EDR), Extended Detection and Response (XDR) and cloud security for physical, virtual and multi-cloud environments.
How is the Gartner Peer Insights Customers' Choice determined?
Distinctions are based on what really matters: the reviews of IT professionals, CISOs, cybersecurity managers and other technology decision makers who are actually using the solutions. The Voice of the Customer aggregates these peer reviews from a specific market segment—providing insightful, unbiased and validated customer feedback from real deployments that can be used to make purchasing decisions.
In addition to being named a Customers' Choice for EPP in EMEA, we believe the report shows that Bitdefender continues to gain and maintain trust from customers around the world and from every market segment.
Highlights from the report include:
94% of global Bitdefender customers recommend our EPP platform.
Bitdefender reviews received four or five stars (out of five stars) 96% of the time.
Bitdefender EPP achieved an overall rating of 4.6 stars—exceeding the market average.
Bitdefender improved its ratings in every category since the 2021 evaluation, including product capabilities, sales experience, deployment experience and support experience.
Bitdefender was named a Strong Performer for EPP overall and in North America.
Bitdefender was named a Strong Performer in two market segments: Midsize Enterprise (defined as $50 million – $1 billion) and Public Sector, Governments, Education.
*Based on 91 ratings submitted in the Endpoint Protection Platforms market on Gartner Peer Insights as of June 2023.


What our customers say about us.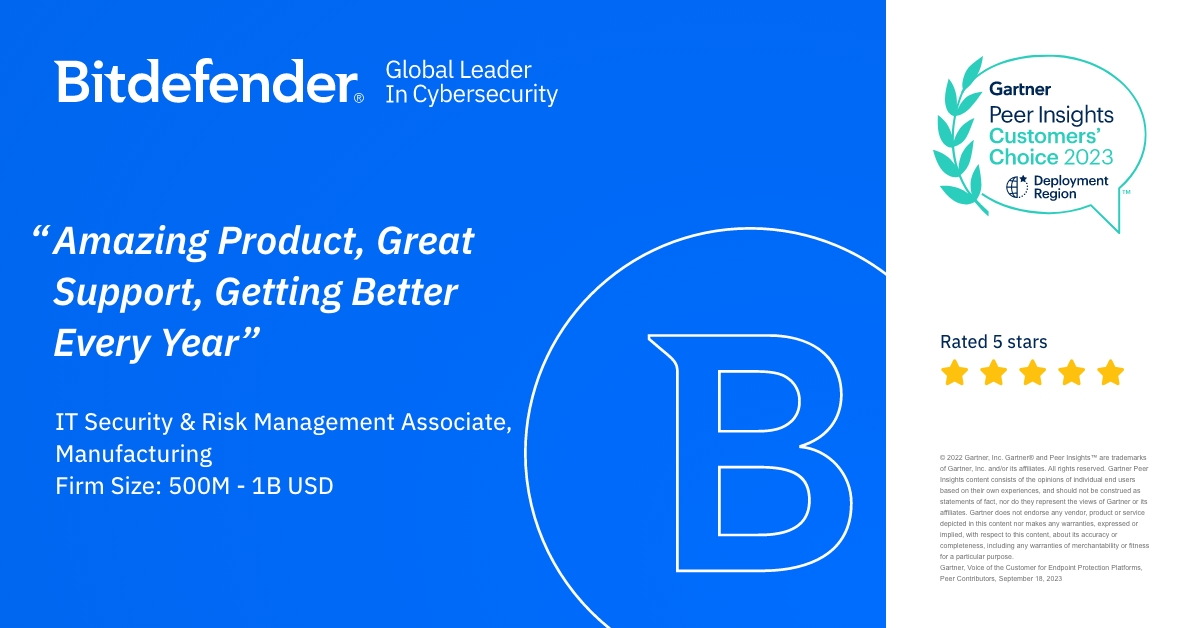 Read the review in full here.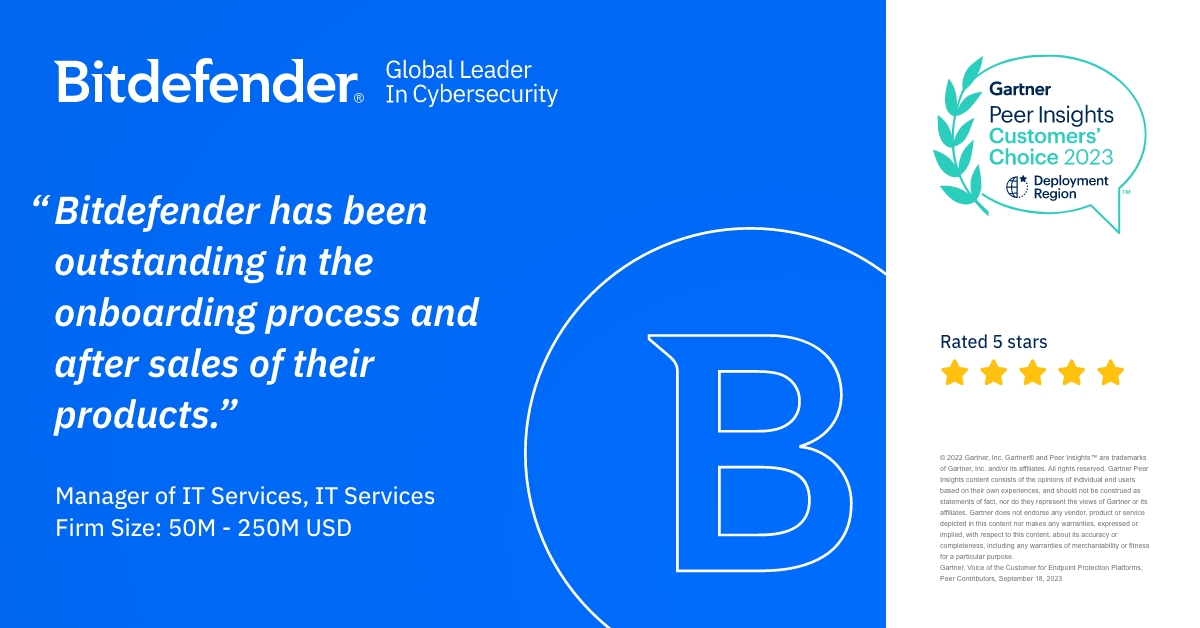 Read the review in full here.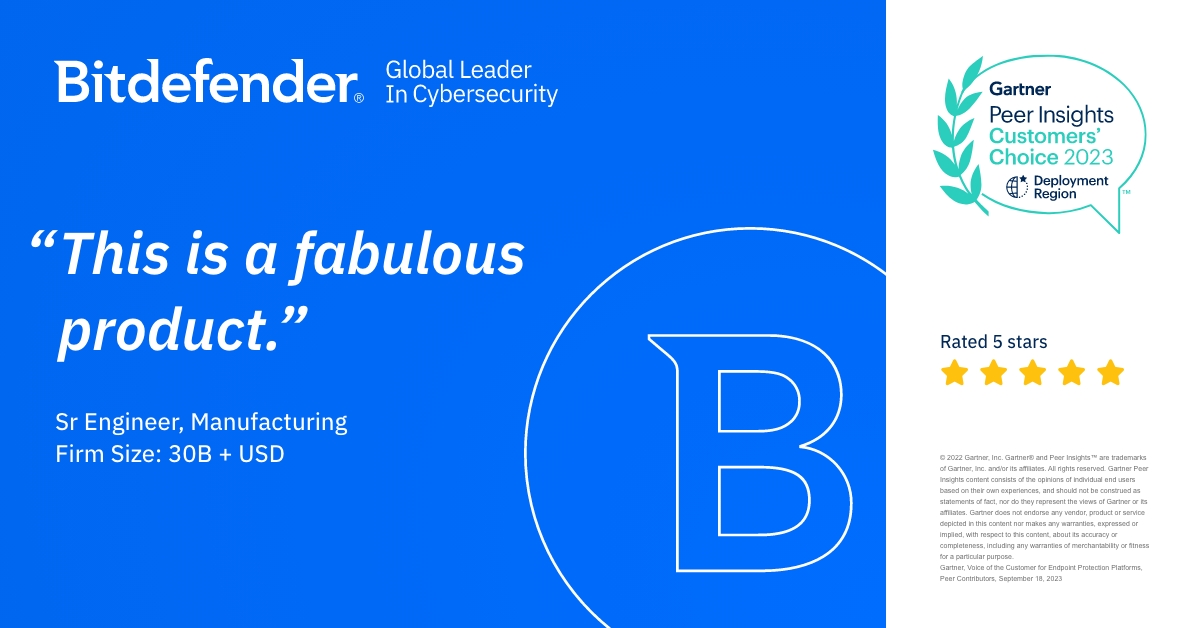 Read the review in full here.


Thanks to our customers!
We appreciate all our customers who submitted reviews for this process. Your feedback provides valuable direction for our development teams and helps determine our product strategy. We are extremely grateful that you continue to put your trust in our ability to protect your company from today's advanced cybersecurity threats. We also wanted to recognize the hard work the Bitdefender team has put into making this recognition a reality. Our teams in EMEA and North America deserve recognition for driving positive reviews.
If you have a Bitdefender story to share, we encourage you to join the Gartner Peer Insights crowd and weigh in here:


---
¹Gartner, Gartner Peer Insights 'Voice of the Customer': Endpoint Protection Platforms, Peer Contributors, September 18, 2023.


Gartner® and Peer Insights™ are trademarks of Gartner, Inc. and/or its affiliates. All rights reserved. Gartner® Peer Insights™ content consists of the opinions of individual end users based on their own experiences, and should not be construed as statements of fact, nor do they represent the views of Gartner or its affiliates. Gartner does not endorse any vendor, product or service depicted in this content nor makes any warranties, expressed or implied, with respect to this content, about its accuracy or completeness, including any warranties of merchantability or fitness for a particular purpose.