2023 began with consumers showing strong demand for travel despite economic headwinds that may strain vacation budgets this year.
With International tourism well on its way to pre-pandemic levels, it comes as no surprise that millions of travel enthusiasts from all across the globe are flocking to overseas destinations this summer.
However, airlines, hotels and holiday booking platforms aren't the only ones profiting from the revival of global travel. Scammers are also looking to make a quick buck by exploiting eager vacationers trying to save money when booking travel deals.
While travel-themed spam emails sneak into the inboxes of global users year-round, summer is an extremely busy time for cybercrooks who take advantage of holidaymakers rushing to book their next vacation.
In our attempt to keep consumers informed and safe all year round, researchers at Bitdefender Antispam Lab have been monitoring the flux of travel-themed correspondence ending up in users' inboxes to give potential travelers a sense of what they can expect and how they can protect their identity and money from fraudulent travel emails.
Here's what we found:
Global travel-themed spam has remained consistent throughout the past three months, according to researchers, with no significant month-over-month spikes between May and July.
Researchers also found that only 38% of analyzed travel-themed spam emails received during our three-month analysis were marketing lures, with the remaining 62% marked as scams.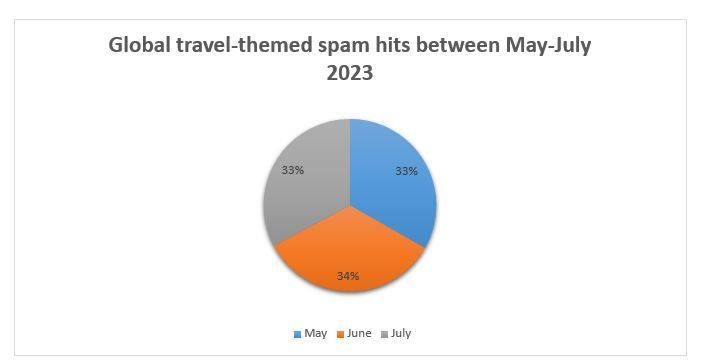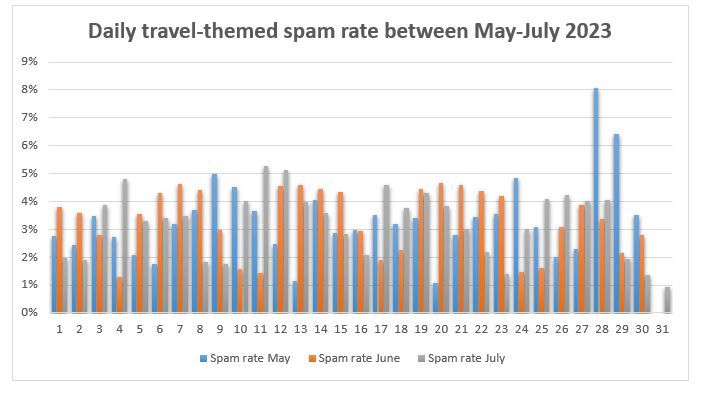 Globally, Europe received the most travel-themed spam between May and July 2023, with 42% of the total, followed by North America with 40%.
The US, though, retains the number one spot as the most-targeted country, receiving 39% of the entire global travel-themed spam emails. Ireland (16%), the UK and Germany (6% each), India and South Africa (5% each), Sweden (4%), Australia, Denmark and France (3% each) follow the US.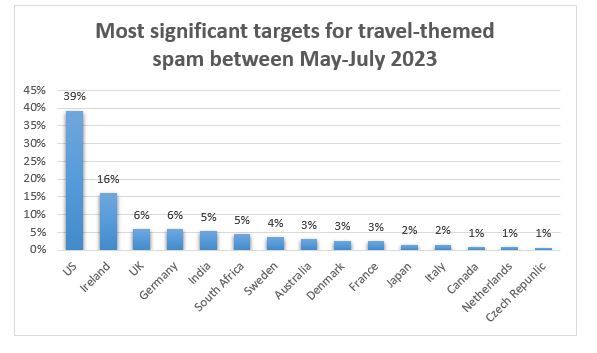 The source of these spam emails varies, but the US takes the lead, with 40% of travel-themed spam originating from IP addresses in the country. The remaining spam originates from countries in Europe, Asia and Africa.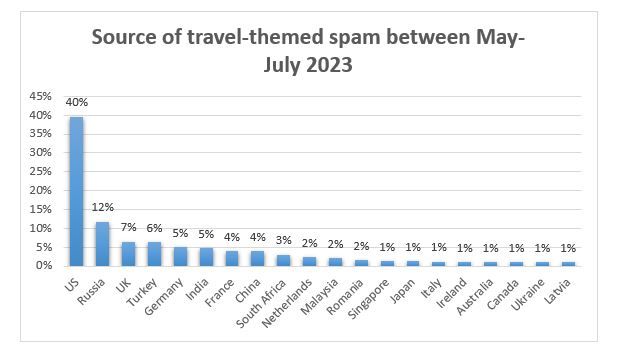 Now let's take a closer look at the subject lines in this unsolicited correspondence to get the gist of what spammers have been trying to achieve this summer.
An analysis of the most used keywords in a sample batch of 1,000 travel-themed spam emails reveals that about 20% of the correspondence included the words "free gift" or "survey" in the email subject line, 8% included the keyword "booking," and 5% mentioned Southwest Airlines (although other airlines have also been mentioned)
On this note, we would like to emphasize that all of the analyzed samples containing "free gift," "survey" or "Southwest" in the subject lines were giveaway scams and not legitimate marketing lures. While looking at other giveaway spam emails mentioning other airline carriers, our researchers noticed a similar pattern – all unsolicited travel-themed correspondence mentioning gift cards, vouchers, and surveys from well-known airlines such as American Airlines and United Airlines and Ryanair were also scams.
Subject lines include:
unlock your free gift complete our survey now
you have 1 new united airlines survey reward ready to claim
answer our survey questions and get a  chance to win flights for your summer travels
you have won an 500 southwest airlines gift card
shopper you can qualify to get a  50 southwest gift card
united is giving you a  pair of free domestic round trip tickets
congratulations you can get a  100 american airlines gift card
Other popular email email subjects we found:
Rentals and vacation deals for Las Vegas or all-inclusive cruises
Booking confirmations
Ads for hotel and resort deals
Samples of fraudulent emails can be found below: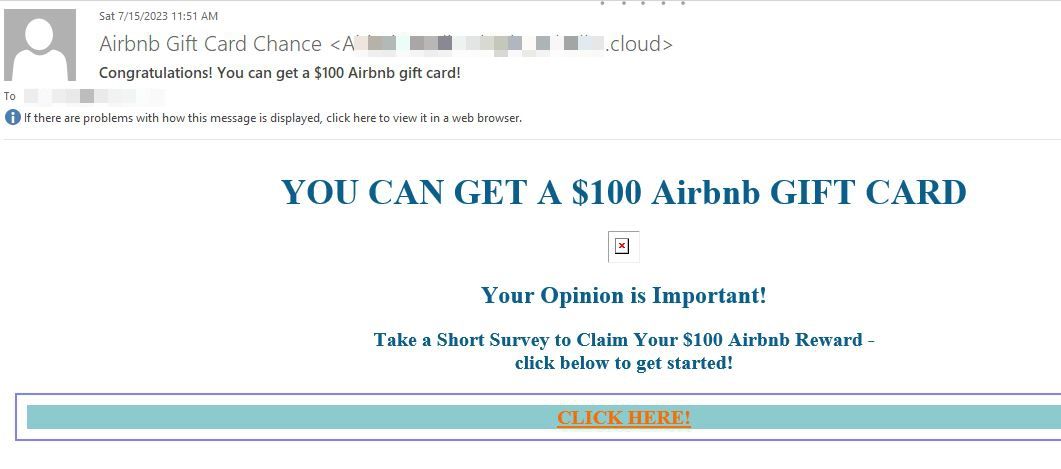 Safety tips
Since the dawn of the internet, fraudsters have propagated their swindles to trick victims into handing over money and sensitive information via all forms of communication, whether email, text, phone, social media posts and direct messaging platforms.
Email-based travel spam has intensified this summer as millions of consumers are planning a long-awaited vacation. While we can expect a small decrease in the flux of travel spam in the coming months, spammers will surely up their game in anticipation of the winter holidays.
So, whether you've already booked your flights or are still planning your next vacation, we urge you to continue to watch out for unsolicited messages and protect your data and money by following these simple rules:
1. Ignore all unsolicited correspondence and never click links or download attachments. If you're sure a message is genuine, head directly to the company website from your browser to check for deals and promotions.
2. Check URLs to ensure you're not directed to look-alike domains– do this from your browser instead of your phone or tablet
3. Use secure payment methods when paying for travel deals or bookings – payment via wire transfers, crypto or gift cards is a huge red flag
4. Be wary of deals that seem too good to be true and any survey participation giveaways that promise you money, frequent flyer miles or other gifts
5. Install a security solution on your devices that to block malicious or fraudulent links and websites