Scammers prey on gullible internet users in vulnerable states of mind, targeting millions of people each year with lottery scams. So, if you're feeling extra lucky this month it doesn't mean that you've actually won.
In light of the upcoming National Lottery Day, celebrated every year on July 17, we want to remind consumers to remain vigilant and offer some handy tips and tricks to help you spot these swindles so you can protect your identity and finances.
Lottery scams may target you via email, text, messages on social media or even the postal office, and Bitdefender Antispam Lab researchers have spotted multiple spam campaigns now targeting users' inboxes across the world, including in the US.
Here's just a taste of what lottery-themed scams our researchers spotted this week:
Mega Millions lottery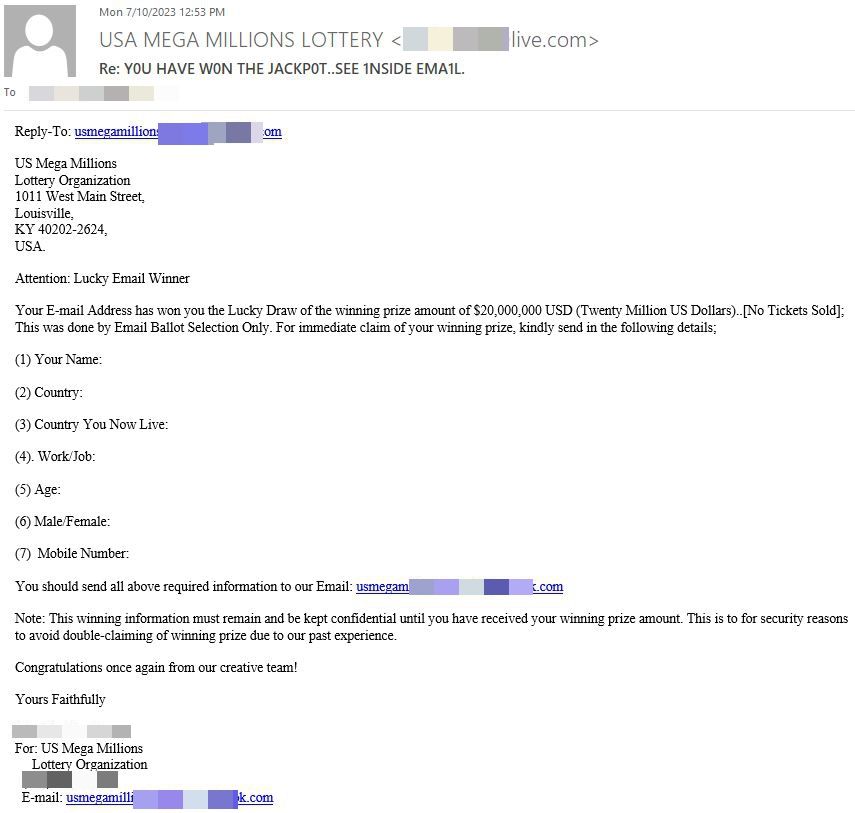 A bogus BMW lottery draw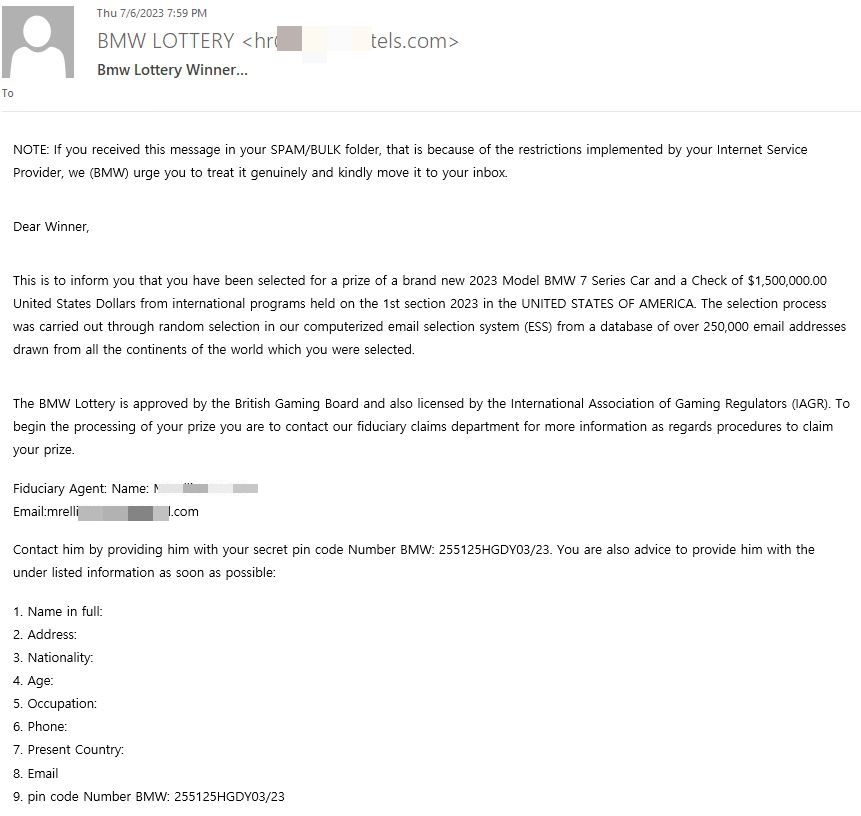 Your email won the Powerball lottery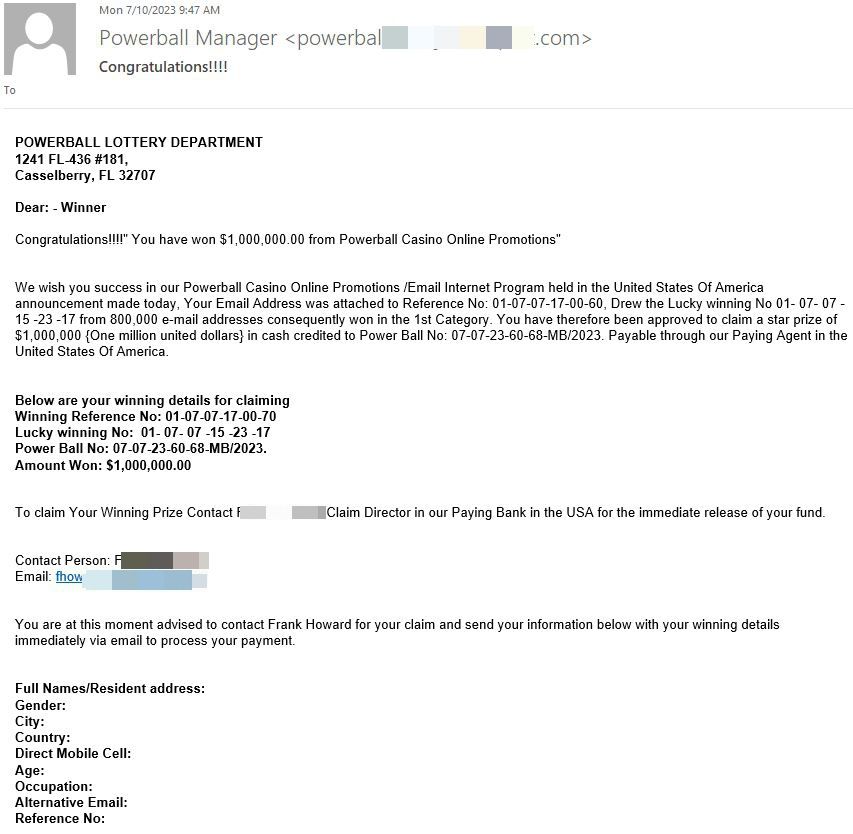 Asian Lottery has randomly selected your email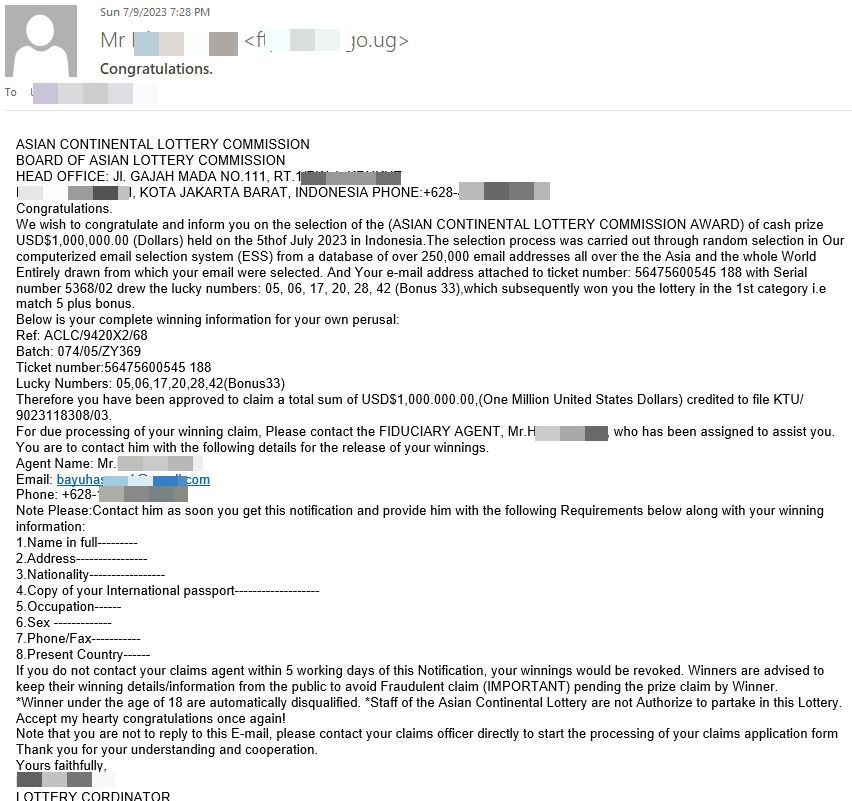 All the above emails are scams designed to steal your money and personally identifiable information. The cybercrooks impersonating representatives of both well-known and made-up lottery organizations claim that you've won millions of dollars after your email address was randomly selected.
Before receiving your grand prize, you're asked to provide identifiable data, including your name, address, job title, passport and mobile phone number, among others.
But trying to access your winnings will actually cost you money.
Common lottery and sweepstakes scam tactics include:
You receive a message telling you you've won a foreign lottery or other local lotteries to which you haven't bought any tickets
The message contains misspellings and poor grammar
You're asked to pay to receive your prize. The alleged lottery representative asks you to pay taxes, shipping charges or processing fees in the form of gift cards, wire transfers or crypto
The message asks for sensitive personal and financial info
The scammers may claim they are from the government or a well-known company. However, if they demand money or other information from you, think again.
The message says that to claim your prize you need to access a link or an attachment with instructions. This could be just another trap to persuade recipients to download malware onto their devices.
The message asks you to act now or risk losing your prize
You're told to keep everything confidential
How to stay safe:
Scrutinize all correspondence that says you've won the lottery. If you haven't bought a ticket or participated in any official raffle, it's a scam. Similarly, real lotteries such as Mega Millions are only playable in the US. Recipients who live outside of the lottery's jurisdiction should dismiss the message.
Never give out personal information or send money to individuals contacting you online or over the phone
If you're unsure if a message telling you you've won the lottery is legitimate, look up the organization's name online and find the contact information. Never call numbers you find in the message or reply to any mentioned email address.
Hang up on any individual who is asking you for money and personal info over the phone
Report any fraudulent or suspicious attempts to your bank and police
If you want to improve your cybersecurity posture and fend off scams and fraud attempts, check out Bitdefender's all-in-one security plans. You can block phishing and nasty internet threats while benefiting from a premium VPN, a password manager, and identity theft protection (for the US only) to stay on top of data breaches and stop fraud attempts.
Read more about our ultimate-mega suite here.